13th Annual Tri-County Gospel Sing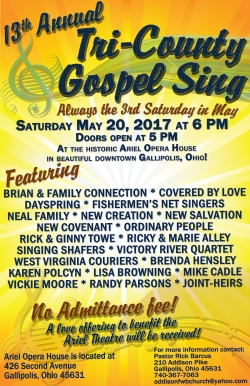 May 20, 2017 at 6 p.m.
Free Concert, No Ticket Required
Join the historic Ariel Opera House in welcoming the Tri-County Gospel Sing, presented by Pastor Rick Barcus of the Addison Free Will Baptist Church.
Featuring: Brian's Family Connection
Covered by Love • Dayspring
Fishermen's Net Singers • Neal Family
New Creation • New Salvation • New Covenant
Ordinary People • Rick & Ginny Towe
Ricky & Marie Alley • Singing Shafers
Victory River Quartet • West Virginia Couriers
Brenda Hensley • Karen Polcyn
Lisa Browning • Mike Cadle • Vickie Moore• Randy Parsons • Joint-Heirs
This concert is free to the public. A love offering will be collected. Doors open at 5 pm and the concert starts at 6 pm.