2022-23 Season Subscription! The Ohio Valley Symphony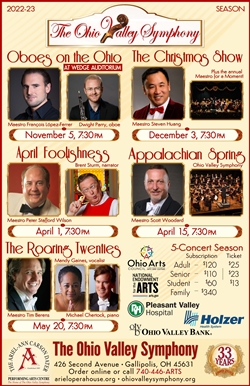 New Subscribers Buy Here Now!
New subscribers click the purple button to purchase your season subscription or call the Box Office at 740-446-ARTS (2787).  Existing subscribers who wish to keep their current seats call the Box Office to order!
Welcome our 33rd season and one of the most diverse ever planned!
We kick things off with a change in venue. Our first concert will be held at Wedge Auditorium at the Point Pleasant Jr./Sr. High School, 280 Scenic Dr., Pt. Pleasant, WV on November 5th, with the dulcet sounds of Oboes on the Ohio.
Is there any Christmas music more beloved than the Nutcracker? On December 3rd we're back in the historic Ariel Opera House where we'll hear the suite in its entirety, plus be a part of the fun with our annual Maestro for a Moment competition. Get your tickets early for this always sold out Christmas Show!
Spring will usher a bit of levity into our lives on April 1st when we enjoy an evening of whimsy, farce, and April Foolishness.  Spring is all around on April 15th with Maestro Scott Woodard conducting Copland's Appalachian Spring as well as other beloved spring selections both new and old.  And what better way to end the season than with a brand new arrangements of Gershwin's Rhapsody in Blue at the May 20th The Roarin' Twenties? You'll want to be a part of the audience as it's being recorded live for public television by a multiple Grammy and Emmy winning team of recording engineers.
The 2022-23 Season will see on the 5 exciting maestros conducting The Ohio Valley Symphony in this 5-concert season featuring world class soloists. The November Concert will be held at Wedge Auditorium, and the remaining 4 concerts will be held at the historic Ariel Opera House.

In these times of uncertainty, concert dates and location may be subject to change. Please watch the website for the latest news.
The Ariel-Ann Carson Dater Cultural & Performing Arts Centre and The Ohio Valley Symphony are 501(c)3 nonprofit organizations, Federal Tax ID# 31-1273779