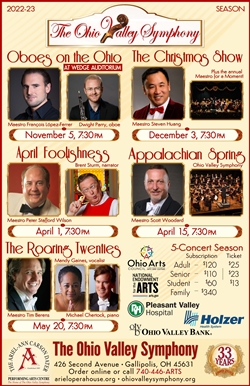 New Subscribers Buy Here Now!
New subscribers click the purple button to purchase your season subscription or call the Box Office at 740-446-ARTS (2787).  Existing subscribers who wish to keep their current seats call the Box Office to order!
Welcome our 33rd season and one of the most diverse ever planned!
We kick things off with a change in venue. Our first concert will be held at Wedge Auditorium at the Point Pleasant Jr./Sr. High School, 280 Scenic Dr., Pt. Pleasant, WV on November 5th, with the dulcet sounds of Oboes on the Ohio.
Read More