Paul Robert Simón, In Memoriam
From Executive Director
Lora Lynn Snow
Paul Simón, President of the Ariel Board of Directors, passed away February 25, 2021. He transformed the board bringing in members with a wide variety of professional skills and he led us ever upward as we completed the restoration of our 1895 opera house. He will be greatly missed.
Paul was a renaissance man. He ran his farm but once owned an antique shop. He was head of the Mason County Emergency Team that stepped in to work at a moment's notice, and he collected art. While working on the Main Street Committee he found out a community's ranking could be elevated with certain amenities so he started an art gallery in Point Pleasant, West Virginia. Through his many contacts he was able to get the Pitcairn family to loan art work to The Gallery at 409 – and while he was at it, he also found a soloist in the same family, violinist Elizabeth Pitcairn, for The Ohio Valley Symphony.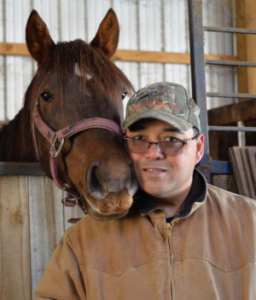 Paul worked with the Mason County Community Foundation that dispersed funds to worthy organizations and he was able to convince them to fund a string program facilitated by the OVS in the schools. He was a Rotarian and came to that via his father, Dr. Mel Simon, who ran a medical mission in the Philippines for over 30 years with Rotary support and with Paul's help. Paul's family home is a beautifully restored historic home, circa 1860.
Paul was a man of many interests, and he loved the Ariel and The Ohio Valley Symphony. He introduced numerous people to the symphony by inviting them to come and sit with him in what he liked to call "President's Row." Sometimes he would even escort them there in his limousine – a favorite story for him was how he traded a golf cart for that classic limo!
Paul loved people and he was always at concerts greeting people as they came in and spending time with them at concert receptions. He had a great gift for conversation and made it a point to get to know audience members and artists alike. Paul could easily speak with everyone from farmers to the governor and find common ground. If someone was in the hospital or in trouble and needing help, Paul was there to lend a shoulder and a hand.
These times of social distancing keeps us from those we care about, keeps us from gathering to mourn and to celebrate, keeps us from sharing the beauty of the music of The Ohio Valley Symphony. When we can safely return to the stage and once again elevate people to that place only music can take us, we will do a concert to honor Paul Simón and our journey together to make the Ariel Opera House what it is today.
A private family service was held on Monday, March 1st, 2021 at Sacred Heart Catholic Church in Point Pleasant, WV, followed by memorial service and interment at the Ohio Valley Memory Gardens in Gallipolis, OH. In lieu of flowers, please consider supporting the organizations that Paul was passionate about: the Ariel Ann-Carson Dater Performing Arts Centre in Gallipolis, OH, the Community Foundation of Mason County in Point Pleasant, WV and Sacred Heart Catholic Church in Point Pleasant, WV.

To donate to the Ariel and The Ohio Valley Symphony in memory of Paul, please click the Paypal link below.
From the Ariel Board of Directors…
Tracy Stewart Call, President
"Our friend Paul found real power in giving, especially to the Ariel. He showed us how giving is a two sided thing. First, it's what it does to yourself. It gives you the experience of others, their personalities and families and it also lets other people experience you. I think Paul showed us how giving helps make us kinder while building something for the community."
Jason Holdren, Vice President
Paul was a man of integrity and strength and his was a life based on giving back to our community. He had a gift of communication that put everyone at ease. He loved his family, the community, the arts and the Ariel.
Chris Petro, Treasurer
"Paul was a family man who was so passionate about his community and country. He was so full of life! Paul had an intense drive and focus to grow the performing arts and The Ohio Valley Symphony within our region. Just a solid leader and fun person to be around. We will miss you Paul."
Jenny Evans, Esq., Secretary
"A life lived fully, with joy and appreciation of art and all good things!"
Mike Owens
"The phrase "Patron of the Arts" in our part of the Ohio Valley has meant Paul Simón. His outstanding contributions to local music at the Ariel Opera House and visual arts at the Gallery at 409 will be sorely missed. We who are grieving his loss must now carry his torch and continue to realize his dreams."
Judy Holland
"Paul became one of our first friends when we moved to Mason county. He introduced himself to us at the first OVS concert that we attended and quickly became a friend. He got John involved with CERT and got both of us involved in becoming licensed Amateur Radio Operators, as well as getting us involved in personal defense training. But his greatest love was for the symphony. That's where most of his time and interest was devoted and that's where we spent our most enjoyable times together. It was Paul who asked me if I would be interested in serving as a Board Member for the Ariel and OVS. I said I would and I'm pleased to say that I am still serving."
Steven Huang
Paul and his family are dedicated to a thriving classical music and fine arts presence in our community. Whether it was serving as our Board President, attending every symphony performance, shuttling his son to violin lessons, or hosting post-performance receptions, Paul was always with us. His spirit shall remain with us always, in the theater that he helped restore, and with the symphony he cherishes so dearly.
Lora Snow, Founder and Executive Director
Paul Simón was a great leader and arts connoisseur and a wonderful friend to all who knew him. He will be greatly missed but his work as president ensured that we have a strong and capable board that will carry on his fine work of bringing arts to the region.
(Paul's online obituary can be found here.)